How would you define your home? When determining a home, it is not just about the ornaments you put into it but your specific interior design. There are many beautiful pieces you can find in the market these days, but how sure are you that these pieces fit according to the interior of your home? Your space should be a sanctuary of comfort and an extension of yourself. Suppose you are looking up and down for answers on what interior design would significantly match your personality and lovely abode. In that case, we have made it easy for you to distinguish. That is by giving you this guide about the different home interior design styles for your home and how to elevate the look using the right modern chandelier, crystal chandeliers, alabaster chandeliers, timber chandeliers, farmhouse chandeliers for your space.
The Differences Between Home Interior Design Styles
Boho / Bohemian
Are you a free-spirited type of person? Then, you will fall in love with the timeless, unconventional, vibrant living that the bohemian interior design style represents. Bohemian interior design is a popular and stylish choice for creating unique, cozy spaces that combine modern and vintage décor elements to create an eclectic, comfortable, inviting look. Bohemian interiors feature natural materials, bright colours, and a variety of textures to add life and warmth to any room.

One of the most recognizable elements in bohemian interior design is the use of light fixtures. Bohemian lights come in various shapes and sizes, from large statement pieces to small accent lights. They often feature unique colours and materials like copper, brass, or stained glass. When choosing a boho light fixture for your space, look for one that stands out and complements the other elements in your design such as pendant lights.

In addition to light fixtures, bohemian interior design relies heavily on textiles. This style often uses natural materials like cotton, jute, or linen to create soft layers of texture throughout the room. Sheepskin rugs, macramé wall hangings, and patterned throw pillows are great additions to bring colour and warmth to any space. Bohemian decor often features rich colours such as blues, greens, pinks, purples, oranges.

When creating a boho-inspired interior design scheme, it is essential to remember that less is more. Keep furniture simple with minimal lines and opt for handcrafted pieces over mass-produced items. Add accessories like plants, tapestries, and handmade art pieces to complete the look. The bohemian design relies on layering different elements together to create a cozy and inviting atmosphere that is unique and inspiring.

The bohemian interior design creates an eclectic space without compromising comfort or style. With intelligent lighting and textiles, you can transform any room into a warm, inviting oasis inspired by this timeless aesthetic. Whether you choose vibrant colours or muted tones, the bohemian decor will always bring life and warmth to your home.
Farmhouse / Modern Farmhouse
Modern farmhouse interior design styles have become increasingly popular in recent years. This cozy, inviting, and rustic style follows a simple aesthetic that uses natural materials such as wood, stone, metal, linen, and more to create a warm and inviting atmosphere. The modern farmhouse style is an exciting combination of traditional design and contemporary ambience, adding a unique twist.

To achieve this look in your home, start by incorporating natural elements such as exposed wooden beams, distressed furniture, and rustic hardware for a timeless feel. Sticking to neutral colour palettes with green or navy blue pops will help maintain the cozy atmosphere while adding some personality. Reclaimed wood furniture pieces can evoke warmth and character in any living space. Adding traditional elements such as wicker baskets, rugs, quilts, cast iron pots and pans, vintage mason jars, and antique clocks will give an authentic feel to any room.

For finishing touches to your home's modern farmhouse look, use light fixtures of brass like the ALVA 12-Light Antique Farmhouse Light or copper metals for subtle elegance. Alternatively, for added texture and charm, you can opt for farmhouse lightings, such as wooden chandeliers or pendant lights with iron accents. Using vintage-inspired accessories like textured wallpapers or framed artwork featuring rural scenes can also tie the look together. Lastly, do not forget to bring the outdoors indoors by incorporating nature-inspired elements like house plants or fresh flowers into your décor for extra warmth and charm!
Scandinavian
The Scandinavian interior design style is a minimalist, modern aesthetic that combines functionality and simplicity with luxurious touches. Often characterized by clean lines, organic materials, and muted colours, the look embraces the concept of 'less is more' without compromising cozy comfort. Scandinavian design has become a widely popular decorating style globally, originating in Nordic countries like Iceland, Sweden, and Norway.

To achieve the Scandinavian design look in your home, choose a palette of neutral whites and greys balanced with warm wood tones. Furniture pieces should be simple in shape but made from natural materials like wood and leather for an organic touch. Keep decorative accents minimal to maintain an airy feel while adding texture with plants or woven rugs for warmth.

Light fixtures such as the MORT Nordic Style Contemporary Pendant Light are essential to Scandinavian style — look for simple designs, such as pendants or chandeliers featuring geometric shapes and glass globes. Natural lighting can also play a significant role in creating the look; let as much sunlight in as possible to brighten up even small spaces. Lastly, add finishing touches like oversized mirrors and metallic accents to complete the design.

With just a few changes to your home decor, you can bring the understated elegance of Scandinavia into your living space. Incorporate timeless furniture pieces with modern touches, like light fixtures in unique shapes, for a chic yet comfortable atmosphere that will last long after the current trend has passed.
Modern
Modern interior design involves sleek lines, clean surfaces, and a contemporary look. It has a minimalist aesthetic that creates a peaceful and calming atmosphere in any space.

To achieve this modern look, look at furniture pieces with simple shapes like square or rectangular tables and chairs and sofa sets with straight lines. Choose neutral colours to decorate the walls, such as whites, greys, tans, or beiges, for a timeless and sophisticated finish. Try rugs in natural fabrics such as wool or linen to add texture to the room.

Lighting plays a vital role in modern interior design. Go for stylish lighting fixtures like the ROSEE 1-Light Modern Chandelier that bring added sparkle to the room. You can also use wall sconces to brighten up dark corners or install dimmer switches to control the intensity of your lights, depending on the mood you want to create.

Opt for minimalistic pieces like geometric sculptures or abstract paintings instead of busy patterns or designs for accessories. Mirrors are also great for creating an illusion of space while adding dimension to the room. Small plants can also help soften hard edges and add life to any space.

By paying attention to every detail and using neutral colours combined with modern elements like chandeliers and mirrors, you can easily create a modern interior design style in any homeroom.
Traditional
Traditional interior design is a timeless style incorporating classic elements such as chandeliers, carved furniture, and intricate details. The type is often associated with elegance and sophistication, making it a popular choice for many homes. Choose chandeliers or traditional light fixtures like the ALVA 16-Light Modern Wagon Wheel Chandelier to achieve this interior design look. These will create the basis of the style, so select something that fits the space. When choosing furniture, choose pieces with intricate details, such as carvings or hand-painted motifs. You can also incorporate traditional tapestries and rugs for added depth and texture.

Regarding colour palettes, you should stick to neutrals such as whites, beiges, greys, and browns. Accent colours should come from jewel tones like royal blues and deep purples to evoke a feeling of richness and luxury in the room. When decorating the walls, choose wallpaper with subtle patterns like damask or floral designs for refinement. For drapery options, go with heavy fabrics like velvet or brocade for an extra dose of luxury.

Finally, do not forget about accessories. Pieces like picture frames painted gold or silver offer a nice contrast against the neutral backdrop, while figurines and vases add extra visual interest to any space. By incorporating these elements into your décor scheme, you can quickly achieve the elegant look of traditional interior design in your home.
Transitional
A transitional interior design style is the perfect way to bring any home a modern, sophisticated look. It combines classic, traditional elements with contemporary pieces, creating a timeless and elegant atmosphere that can be applied to any room.

First, it is essential to consider the colour palette of your space. Neutral colours such as whites, greys and beiges are necessary for achieving the transitional style. Incorporating muted tones throughout your room will create a subtle but sophisticated look. Additionally, adding natural elements such as wood furniture and neutral-coloured textiles will help to tie everything together and keep the room from looking too sterile.

Transitional lighting like the CANOVA 8-Light Circular large Contemporary Chandelier is also an integral element of achieving this design style. Simple yet elegant chandeliers or sconces work well in small doses throughout the room. Consider using task lightings, such as floor lamps or table lamps, to add dimension and texture to the room without overwhelming it.

Incorporating accent pieces such as artwork or rugs is vital for bringing depth and detail into a transitional living room. Choose pieces that blend classic styles with more contemporary features for an elevated look that will never go out of fashion. Finally, do not forget about accessories! Accessories like pillows, throw blankets, and candles can add a final touch of warmth and personality to complete your perfect transitional design style.

Overall, achieving a transitional interior design style does not have to be complicated—all you need is creativity. You can easily glamorize any space using neutral colours, classic lighting fixtures and properly chosen accent pieces.
Industrial
The industrial interior design style is a decorating look inspired by industrial spaces, and it has become increasingly popular in recent years. This style blends raw materials like steel and exposed brick with modern elements to create an edgy, urban-chic atmosphere. The result is a unique aesthetic that combines contemporary and vintage pieces.

To achieve the industrial design style, start with furniture and lighting basics. Choose pieces made of metals or wood that have a minimalist look. Clock faces, pipes, gears, and other exposed mechanisms are also crucial to this look. Industrial pendant lights like KIRA 5-Light Industrial Concrete Pendant Light or industrial chandeliers are a great way to add drama and light to your space – go for ones made from metal with vintage bulbs for an authentic industrial vibe.

You can then layer on more texture with items like rugs, wall coverings, fabrics and artwork. For example, consider introducing pieces made from distressed leather or aged wood with the weathered look associated with this design style. To add pops of colour to your interior industrial scheme, choose accent pieces in bright hues such as yellow or red – these colours will stand out against neutral walls and flooring colours like grey or concrete.

Finally, do not forget about accessories. Display sculptures or clocks made from iron for an industrial edge; you can also hang hooks onto walls for additional storage and to complement the overall design aesthetic. Industrial interiors may not be everyone's cup of tea, but when done right, they can create an aesthetically pleasing environment that includes elements from both traditional and contemporary styles.
French Country
French country interior design is a popular style that brings a touch of old-world charm to any home. It combines traditional elements such as rustic furniture, distressed finishes, elegant lighting fixtures, and modern colours and textures. The overall effect is timeless and inviting.

The hallmark of the French country style is bringing together various elements that evoke the classic countryside of France. This includes antique furniture, exposed beams, stone fireplaces, and whitewashed walls. Warm colours such as yellow, pink and terracotta are used throughout the design to bring out the rustic feel. Textured fabrics like linen or jute can be used for upholstery and window treatments.

One of the most important aspects of French country interior design is lighting fixtures that bring a touch of glamour to the room such as the Castilla 6-Light Contemporary French Country Chandelier. An ornate chandelier or sconces can add a romantic glow while aligning with the theme. French country light fixtures often feature an aged patina that adds character to the space.

Another way to achieve a French country look is through wall decor. Gilded mirrors, vintage maps, and framed artwork perfectly capture this aesthetic while providing much-needed visual interest to any room. Natural materials like wood or jute can be used for shelving units or other storage solutions, adding texture to any space.

These pieces can be mixed in with more contemporary elements like modern furniture or accent pieces so that your home feels fresh yet timeless at the same time. A combination of careful planning and attention to detail will ensure you create a unique space that exudes classic French elegance.
Contemporary
The contemporary interior design style is a popular and modern way to bring charm, finesse, and sophistication into a home. It combines traditional and modern elements to create visually appealing and comfortable rooms. This style utilizes natural materials, clean lines, bold colours, and geometric shapes to achieve a unique and distinctive appearance.

When achieving a contemporary design style in a home, lighting is one of the most critical factors. Chandeliers or other light fixtures with an industrial-inspired look are perfect for adding an up-to-date touch. You can also opt for wall sconces or pendant lights with contemporary designs to add extra character to the room. To complete the look, consider incorporating pieces with interesting shapes or patterns, such as furniture with curved edges or abstract artwork on the walls.

The colour scheme of contemporary interiors typically focuses on neutral tones such as grey, beige, taupe, white, black, and brown to create an overall calming effect. Small pops of bright colours like yellow or pink can bring life to the room without overwhelming it. Natural materials like wood flooring or accents made from stone will help create an inviting atmosphere inside any home.

Creating a contemporary interior design style requires careful consideration when selecting furniture items, light fixtures, and colours for the space. You can quickly achieve this stylish yet comfortable look in any home setting by utilizing natural materials and modern touches such as bold colours and geometric shapes.
Mid-Century Modern
The mid-century modern design style has been a mainstay of interior design since the 1950s. With its bold lines, graphic patterns, and textured fabrics, this style has a timeless appeal that never goes out of fashion. Whether you're looking to incorporate a few simple elements or create an entire room using this style, here are some tips and tricks to help you achieve your perfect mid-century modern home.

Regarding furniture, look for pieces with clean lines and minimalism. Choose materials like teak or walnut wood, leather sofas, and lounge chairs in vibrant colours like oranges, greens, and yellows. Do not be afraid to mix up textures as well; velvet pillows can add a touch of luxury to any mid-century modern space.

Lighting is also vital in bringing the mid-century modern look alive. Look for statement chandeliers like the TULIM 18-Light Crystal Chandelier in sleek geometric shapes or colourful pendant lights with an industrial feel. Consider installing dimmers, too – they're a great way to adjust the atmosphere of your room quickly and easily.

Accents are another essential factor in creating the perfect mid-century modern vibe. Add metallic accents like brass lamps or vintage wall art with sleek frames to draw the eye around the room. Mid-century-inspired rugs are also essential for bringing together all of the furniture pieces in your space into one cohesive look.

Finally, do not forget about plants. Plants bring energy into any space and add softness to all types of décor – particularly when paired with mid-century furniture pieces like glossy side tables and tufted armchairs. Succulents work particularly well if you want something easy to care for but still add a bit of greenery to your home.
Bauhaus
Bauhaus interior design is a style that has stood the test of time. Its minimalistic, modern, and timeless aesthetics have made it popular for decades. Bauhaus dwells on giving a home a holistic design while incorporating clean lines, smooth surfaces, geometrical shapes, and a lack of ornament into the theme. When choosing furniture and decor influenced by the concept of Bauhaus, these should be beautiful yet minimalist and functional including the ANGELO 6-LIGHT Modern Chandelier. This interior design is more minimalist but follows the basic principle of functionality. Straight legs furniture and multifunctional design are the best way to describe this upbeat vibe.
Japandi
Japandi's interior design is a fusion of Japanese and Scandinavian styles, creating a modern yet cozy atmosphere. This hybrid style utilizes natural materials, neutral colours, and minimalist silhouettes to create an aesthetically pleasing and functional space. The combination of Japanese minimalism with the clean lines of Scandinavian design creates a simple and sophisticated ambience.

Japandi decor often features pieces made from wood, such as wooden tables, shelves, and chairs. In addition to wood furniture, japan spaces are often decorated with low-key lighting fixtures like sconces or japan chandeliers. Natural materials like linen and rattan are also popular in this decorating style. Neutral earth tones are used as wall colours for a calming effect. Textured fabrics like wool or cotton are used in pillows and rugs to add texture to the room.

When arranging the furniture in your Japan-inspired space, creating harmony between the pieces by working within a unified colour palette is essential. Details should also be set to work together in balance - no single item should be too large or too prominent. Place furniture close together to create comfortable conversation areas and use symmetry throughout the room for visual appeal.

Finally, take advantage of natural light by adding sheer curtains or light fixtures, such as Japan lights, over your windows to help brighten up any area in your home. Adding plants will also bring life into the room, enhancing its organic appearance. Utilizing these tips when decorating will help you achieve that perfect modern yet cozy Japandi look you have been craving!
Different Types of Chandeliers that Complement the Above Styles  
Since we know how to distinguish an interior design style when we see one quickly, we are currently thinking about the elements we can add to our home. One good investment would be a chandelier. Professionals designed these timeless works of art to match your home's style. So, if you are having second thoughts, here are some lovely chandeliers that are perfect home décor:
1. Crystal chandeliers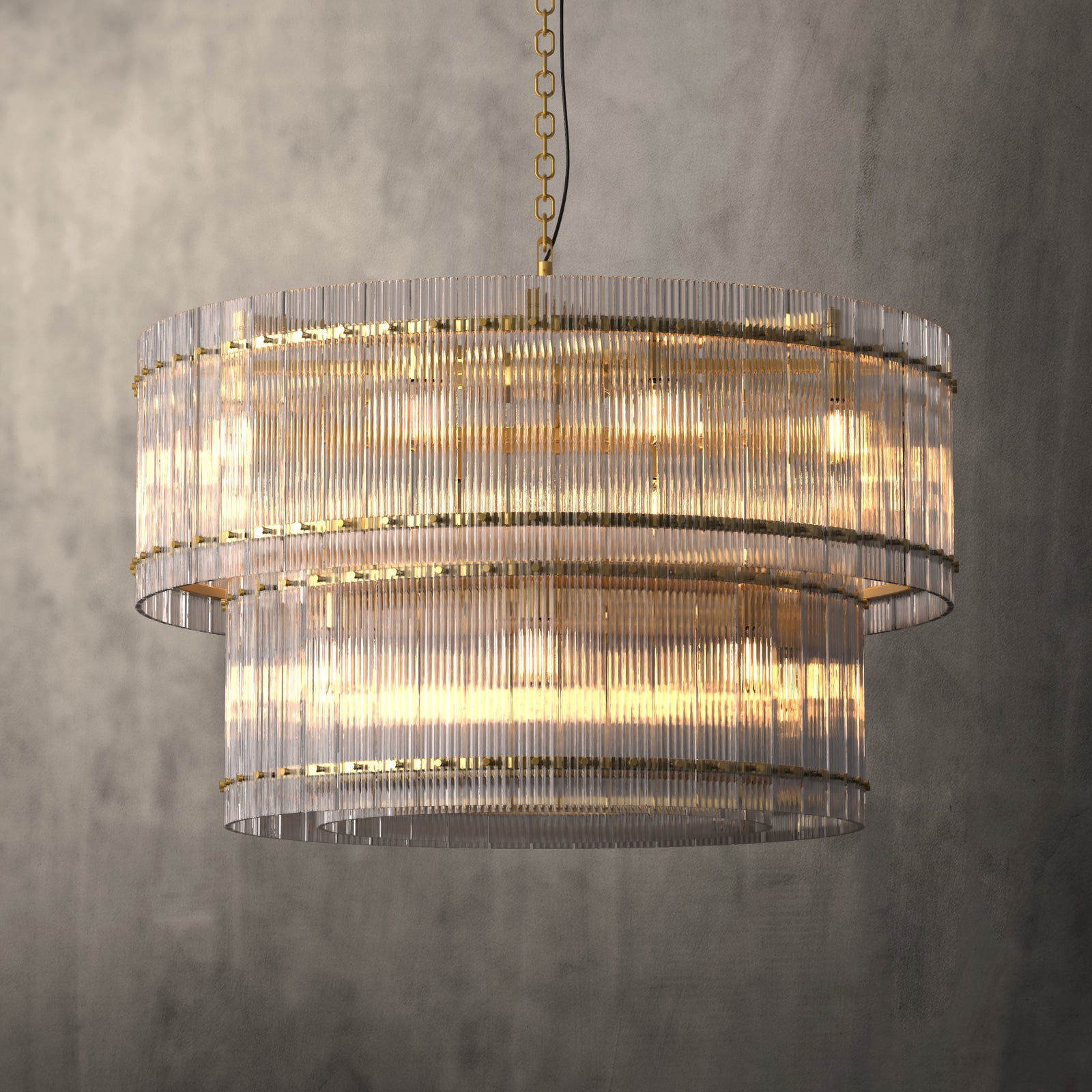 Trends in home decor come and go, but you will never go wrong with the classics like the crystal chandeliers. The luxurious design of crystal chandeliers is the perfect piece for Scandinavian, Traditional, Transitional, and even Modern interior design styles depending on your chosen crystal chandelier. 7Pandas has a wide range of crystal chandeliers, like VALENCIA 2 Layer Round Large Modern Style K9 Crystal Chandelier Aged Brass 18* E14 base.
 See all our Crystal chandeliers in our Crystal Chandelier collection.
2. Alabaster chandeliers
Alabaster chandeliers are renowned worldwide for their high quality and durability. This type of lighting is perfect for cozy and romantic evenings like our Allyson 1050mm circular round alabaster chandelier 16*E14 lamp base since it casts soft and flattering lights, thus ideal for French or Traditional interior design styles.
 See all our Alabaster chandeliers in our Alabaster Chandelier collection.
3. Timber chandeliers
Timber chandeliers or Wood chandeliers, as the name suggests, are uniquely crafted from wood, usually handmade to create a unique shape of contemporary chandeliers. These pieces are often found these days in modern and contemporary homes. One great store to find top-notch wooden chandeliers is none other than 7Pandas. It offers extensive designs and styles of timber chandeliers like the Bonito 1-light timber round dark brown E27 chandelier. Some resemble the rain, while manufacturers crafted others to welcome guests with warmth and a cozy feeling at home.
 See all our Timber chandeliers in our Timber Chandelier collection.
4. Farmhouse chandeliers
Farmhouse chandeliers like our Alva 16-light modern wagon wheel chandelier aged brass e14 farmhouse light deliver a rustic feel at home by casting warmth and lighting embrace. It is truly a magnificent piece to add to your farmhouse interior design style, as it completes the overall aesthetic of your home with its clever design.
See all our farmhouse chandeliers in our farmhouse chandelier collection.
Read Related Blogs: