What if there was a new invention that had the potential to change the way we design homes? Well, there is! This article explains how LED lighting has the potential to revolutionise the design industry by replacing traditional light sources with a more futuristic product.
What is a Crystal Chandelier?
A crystal chandelier is a beautiful and luxurious way to light up a room. They are perfect for stylish designer homes and can give your home a touch of luxury. If you are considering purchasing one, here are some things to remember:
Size - A crystal chandelier should be large enough to light up the whole room but not too large to take up much space.
Design - Manufacturers should design a crystal chandelier with style and sophistication in mind. Look for ones with intricate designs, ornaments, or bright colours.
Price - A crystal chandelier can cost much money, so budget accordingly.
Maintenance - Keep a crystal chandelier clean to look its best. Make sure to use a clean cloth to dust it off every once in a while, and avoid using harsh cleaners or chemicals.
Types of Crystal Chandeliers
Crystal chandeliers are a popular choice for designer homes. They are elegant, timeless, and can add an air of luxury to any room. There are various crystal chandeliers, each with unique features and benefits. Here are a few types of crystal chandeliers that you must know:
Traditional Crystal Chandelier
The conventional crystal chandelier is perhaps the most recognisable type. Manufacturers make it up of individual crystals or glass balls, giving it a sparkle. Traditional crystal chandeliers are perfect for rooms with a classical or traditional style, as they can lend a touch of elegance and sophistication. They are also versatile - you can use them in formal and informal settings.
Pendant Crystal Chandelier
The Pendant Crystal Chandelier is another popular type of crystal chandelier. It consists of multiple tiny crystals or glass balls suspended from a central wire frame. The effect is similar to a traditional crystal chandelier, but the Pendant Crystal Chandelier is less bulky and more delicate. Pendant Crystal Chandeliers are ideal for smaller rooms or spaces, as they do not take up as much space as a traditional crystal chandelier.
Benefits and Drawbacks of Crystal Chandeliers
There are many pros and cons to utilising crystal chandeliers in any home. The main benefit is that they add a touch of class and elegance, which can help make a house attractive to buyers. However, crystal chandeliers can also be expensive depending on the size and type of crystal used. Furthermore, they may require regular cleaning. Additionally, some people may find that the light emitted from crystal chandeliers is harsh and not particularly pleasant to look at. 
Crystal chandeliers are a popular fixture for any home. They offer a range of benefits that can make your home look more elegant and sophisticated. They can add brightness and appeal to any space. Crystal chandeliers can be a beautiful addition to any room, but they have some drawbacks. First and foremost, crystal is a delicate material and can easily be damaged if not handled with care. Also, if they break or lose light, crystal chandeliers can be expensive to replace. Lastly, crystal chandeliers are not always easy to install.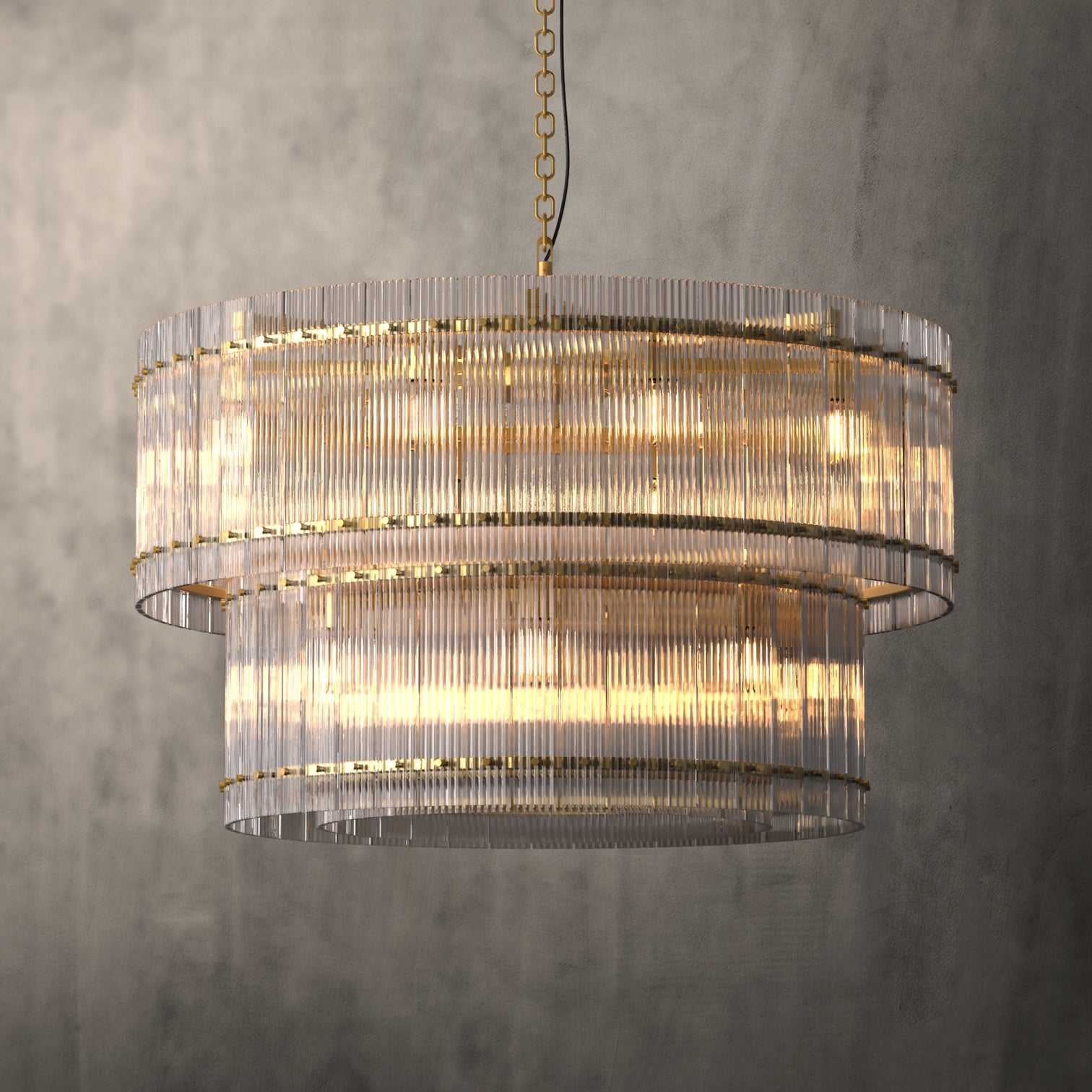 Tips for Buying a Crystal Chandelier
When shopping for a crystal chandelier for your designer home, it is important to remember a few tips:
Ensure the crystal is high quality and has a Mohs hardness rating.
Purchase a chandelier that is the right size for your room.
Do not forget to consult with a professional if you have any questions about choosing the perfect crystal chandelier for your home.
How to Select the Best Crystal Chandelier for Your Home?
Crystal chandeliers have long been famous for homeowners looking to update their décor. However, there are many styles and kinds of crystal chandeliers, so how can you determine the right one for your house?
Beforehand, it is essential to think about the style of your home. For example, a traditional crystal chandelier may be a good fit for a Victorian or Regency-style home. At the same time, a more contemporary style might call for something like an LED light fixture with embedded crystals.
Once you have the right idea of the kind and style of your home, it is time to consider the size. For example, a chandelier that is too large will take up too much space and place, while one that is small might not provide enough light.
Next, it is crucial to think about the function of your chandelier. People can use chandeliers for several different purposes, such as lighting a room or providing ambient light. Therefore, choosing one that will work well with the other elements in your home and meet your needs is essential.
Finally, it is essential to consider the price. While there are undoubtedly high-quality crystal chandelier options, the costs can be overwhelming. If you are following a strict budget, it will be best to go with one of the cheaper styles instead of paying for high-quality crystal chandeliers that you would not use.
Choosing a crystal chandelier is simple once you have decided on your style and size, it is time to select your crystal chandelier. Still, several features will help you determine what crystal chandelier is right for you: Elegance - Choose a crystal chandelier in an elegant colour scheme that complements your home decor. A well-designed crystal chandelier will look beautiful in any room of your house.
Available Products
It is one of the glamourous glass lightings with solid brass and crystal used to create optical lenses. It has a clear crystal, 20W G9 bulbs, and a dimmer switch. You can also hang it anywhere, but turn it in dry locations. You can always try to wipe it using a dry cloth. The minimum height of the chandelier is 101cm, and the chandelier's weight is 15kgs.
This glass lighting has a circular body that has dozens of panes. It produces the proper lighting you need in your house to lighten every home corner. It is made of solid brass that people use to make optical lenses. It has a clear glass crystal and is hardwired. You can use it in dry locations by assembling the chandelier when it is delivered to you. It is around 22kgs and has a height of about 42.5cms.