We all love a cup of coffee every morning, but you cannot rush to the café in your robe. Well, a drip coffee machine can be your saviour. Get the perfect amount of caffeine with an excellent roast. The best thing you could wish to have every morning. Having a coffee machine at home is always a benefit. You don't need to invest in expensive coffee from a café; instead, you can make your unique recipes and try something new.
When choosing the best espresso machine for home use, we panic because we are not experts until we taste the produce. The coffee machine sellers won't prepare coffee to sell the device. Here we have some recommendations that can elevate your coffee experience at home.
The Barista Breville Touch Coffee Machine
This machine has been a hit among coffee lovers. It is an intelligent machine that offers multiple coffee recipes in seconds. It is one of the popular coffee machines for home use. Make lattes and cappuccinos just like a café in the comfort of your home. It comes with a built-in grinder, considered the best coffee grinder in Australia. It gives the perfect amount of ground coffee to make every cup. The touch sensors are accurate enough. You need to choose the type of coffee you want from the menu, and that's all you need to do. The machine will do it all.
It picks up the coffee in just 3 seconds, starts heating up, and initiates the rest processes within a short time. That will help you in making multiple recipes in one touch. The super active touch panel is the best element that you must check. Moreover, it has an automatic mil texturing feature that helps in giving a texture to the coffee. These are some pros of the coffee machine. The only drawback of the coffee machine is that there is only a single boiler, and it is a little bit more expensive than similar models.
The De'Longhi Espresso Machine
Another masterpiece in this category is the De'Longhi espresso machines. This machine is ideal for espresso lovers. You can make any coffee recipe that is espresso-based. Be it americano or macchiato or any such coffee, you can make it at home. Of course, you need to add cream additionally for a macchiato, but the machines make it simple. The perfectly ground and brewed coffee is just a click away. The range offers multiple espresso machines that come with specific specialities. One of the most popular ones in the market is the Dinamica Black.
The Dinamica Black is a pleasure to the eyes. It is a beautiful machine that looks good and comes with exciting features. It also has an intelligent water heating technique and uses thermo-block technology to reach perfection. Cleaning this machine is convenient enough. This one machine can change your habit of visiting cafés because the product is even better than a café.
It comes with intelligent technology to make a perfect cup of coffee. Cleaning the units in your dishwasher is extremely easy in these machines. People who are a sucker for black would love this as it comes with the best coffee grinder inbuilt. These are a few advantages of the coffee machine. The only con is that it can only produce espresso-based coffee. You cannot make other coffee products like latte, cappuccino, and different types.
The 7Pandas Range of Drip Coffee Machine
7Pandas offers a fantastic range of drip coffee machines with fascinating features and customization options. The range includes expresso machines, machines with grinders, fully automatic machines, and semi-automatic machines. The range offers a blend of coffee machines that cater to most of the audience. The coffee machines come in different capacities, but the best one you must check out is the 20 Bar Stainless Steel Semi-Automatic Espresso Coffee Machine with Grinder for Latte and Cappuccino Home-Barista. That is the ultimate espresso machine that you can have. It comes with an inbuilt grinder with separate setups to make espresso-based drinks and cappuccinos. That will be your unique Barista for life. Though this machine comes in a costlier range, there are affordable options.
15 Bar Espresso Coffee Machine with Foaming Milk Frother is the ideal affordable home espresso machine. It is small and will look great on your kitchen counter. It is suitable for a small household where you want a good cup of coffee yet don't need to invest a lot.
The best benefits of using the machine are that it comes with multiple options that can cater to the needs and expectations of the people. Another advantage is that these machines come in two different types: fully automatic and semi-automatic. These machines are affordable and have plenty of features that significantly benefit you.
If you are a coffee lover, you must opt for such coffee machines for your home use because they are super easy to use and make your life easier and better. However, having so many good options for drip coffee machines might confuse you. We can help you to choose one among them all.
Which is Best, Breville or Delonghi or 7Pandas?
Breville espresso machines are famous for their intelligent technology. If you love fully automatic espresso machines, then Breville offers the best machines for you. It also comes with touch-sensitive buttons that make the entire process easier. The device also comes with specially designed coffee recipes that are something interesting.
De'Longhi coffee machines come in an extensive range of espresso machines. However, their coffee machines are limited: they can only make espresso-based coffee recipes. If you love that, then this is the ideal machine for you.
7Pandas offers a fantastic range of coffee machines designed for a vast audience. There are different price ranges according to the capability of the buyer. You can go for fully automatic or semi-automatic machines. You can select any of the inbuilt recipes or customize your coffee. It has everything you will need for your coffee.
The best is the 7Pandas espresso machine as the provider offers the best service to the customers. In addition, their customer support team is available 24/7, assisting you in solving all your queries within minutes.
Other Available Products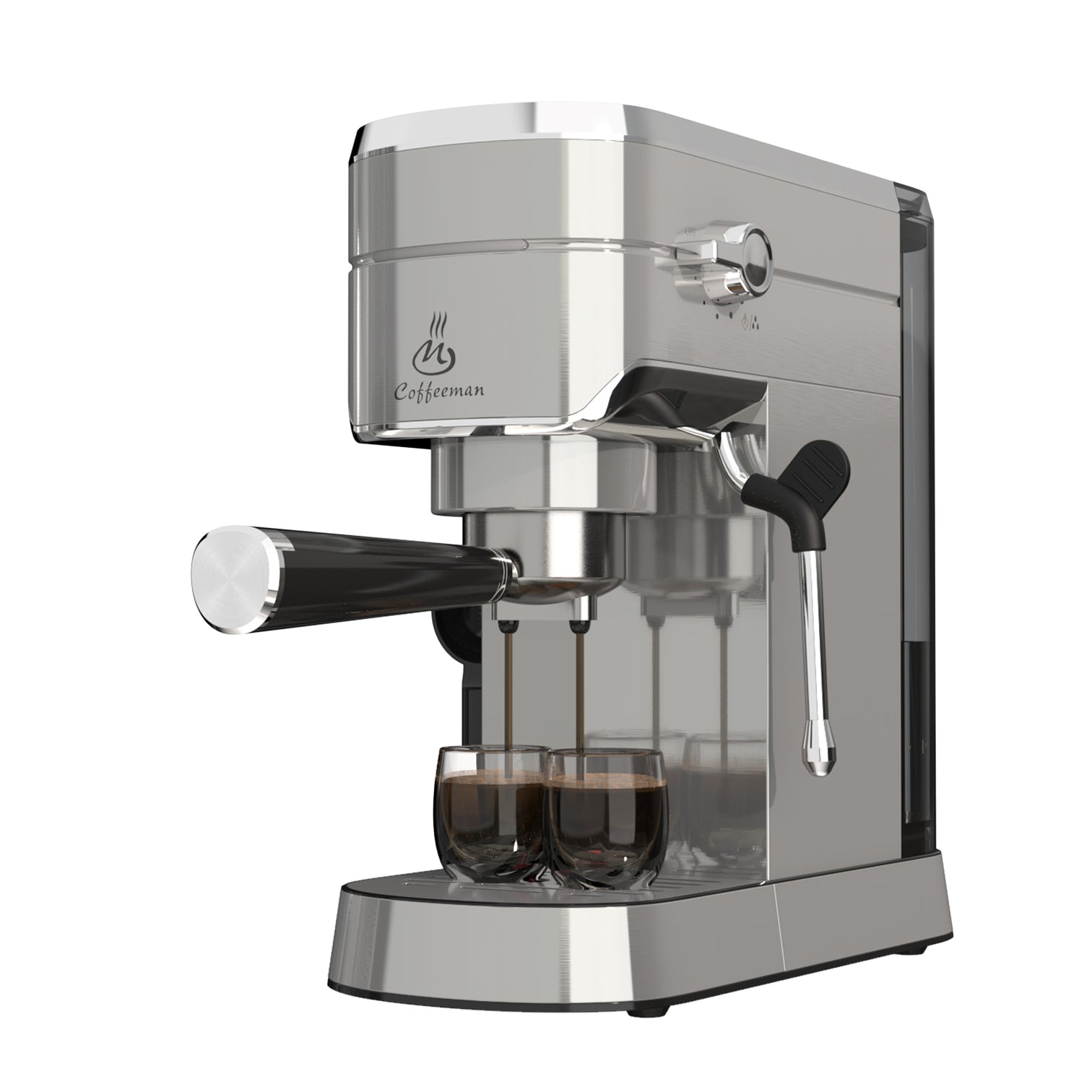 The COFFEE MAN espresso machine comes with a 15 bar professional pump, a 1450W powerful instant thermo-block heating system, and an automatic flow meter guaranteeing the optimal temperature pressure, temperature and volume to extract espresso perfectly. The COFFEE MAN espresso maker comes with the 2 in 1 portafilter with two filters - single and double for brewing one or two espresso shots; automatically, press the single or double button on the top panel. Now you can make a perfect espresso at home with the coffee man espresso machine.
This product has a professional pump and a powerful theme-block system to control the machine's heat. It has a flow meter that automatically handles the optimal pressure and the volume of espresso extraction. It brews coffee just like how Barista serves. Also, the product has a plastic housing and an in-built stainless filter. It has a steam wand to make frothed milk. Moreover, it offers rich textures of espresso. Finally, it has a power-off function that automatically turns off the machine when it fills the cup.